Janice Tucker Rhoda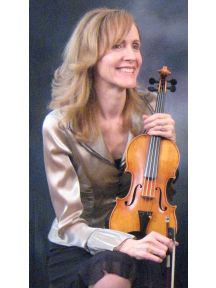 Janice Tucker Rhoda is the author of the popular instruction book series The ABCs of Strings and Complete Technique. They are published by Carl Fischer Music.

Her biography is included in Marquis Who's Who in America, Who's Who of American Women and Who's Who in the World.

She has designed her path-breaking series to encourage students of all ages to play the Violin, Viola, Cello and Double Bass. Her method makes learning to play a bowed string instrument easy and enjoyable.

She has presented string teacher training clinics and courses at New England Conservatory of Music, McGill University, Penn State University, Royal Conservatory of Music, Vancouver Academy of Music, Cambridge Center for Adult Education, and USA educational music conferences FMEA, MMEA, NJMEA, NYSSMA, PMEA, TODA and TMEA.

She gave a Music Industry Showcase Session for Carl Fischer at the American String Teachers Conference 2015 in Salt Lake City, Utah. She has served as an adjudicator for solo competitions.

She received a Bachelor of Music degree in Violin Performance from New England Conservatory of Music where her primary teacher was Eric Rosenblith, protégé of well-known pedagogue Carl Flesch. She attended NEC's Preparatory School for 3 years studying with Mr. Rosenblith before enrolling in the college division and studying with him for a total of 8 years.

Other luminaries she studied with include Nancy Cirillo, Rudolf Kolisch, Yuri Mazurkevich, George Neikrug, Daniel Pinkham, Gunther Schuller, Roman Totenberg and Benjamin Zander. Her Suzuki teacher trainers were Shinichi Suzuki, Joan Reuning, Lorraine Fink, William Starr and Carol Sykes.

She taught at Longy School of Music, Brookline Music School and All Newton Music School, serving as director of the Suzuki program at the first two institutions. She emphasized a "modified" Suzuki approach introducing note reading early using solfege syllables and letter names.

She has taught Violin, Viola, Cello and Double Bass, and has accompanied students on Piano. She has studied Guitar, Flute, Clarinet, Recorder and Mandolin, and had years of private voice lessons beginning at NEC for college credit. She learned to read music at age 6 in a Massachusetts public school and sang solos in school plays and graduations before studying Violin at age 9.